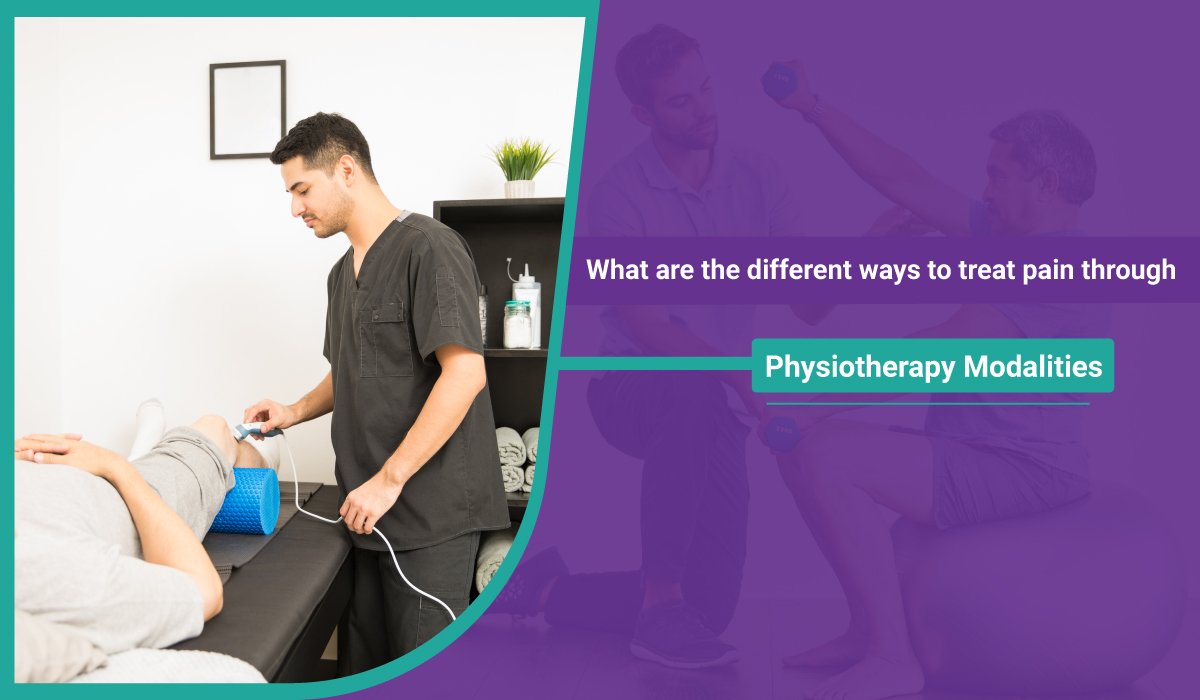 The electrotherapy modalities in physiotherapy are a testament to the wonders of modern medicine. TENS, PEMF, and ultrasound therapy are but a few of the modalities that offer a glimpse into the power of electrical and sound waves to reduce pain. With each mechanism tailored to the patient's unique needs, the electrotherapy modalities provide a glimmer of hope in the often bleak world of injury and chronic pain. In the hands of a skilled physiotherapist, these modalities can be used to promote healing and enhance the patient's quality of life.
Here are 6 Electrotherapy modalities that are used for pain relief
TENS
So, have you ever heard of TENS? It's this electrotherapy modality in physiotherapy that uses low-voltage electrical currents to reduce pain. It's like magic but without the wizard robes and wand.
Basically, TENS works by sending electrical signals to your nerves through these sticky pads called electrodes. The signals stimulate your nerves to release endorphins, which are like our body's own painkillers. These endorphins then block the pain signals from reaching our brain, and voila, pain reduction!
One of the things we love about TENS is that it's non-invasive and drug-free. We don't need to pop pills or go under the knife to get pain relief. And it's not just for people with acute pain – TENS can also be used for chronic pain management.
Plus, TENS devices are pretty portable these days. You can find ones that are small enough to fit in your pocket, so you can use them on the go. Imagine being able to get pain relief while you're out for a walk or running errands. It's like having a secret superpower.
Now, let's not get too excited and start zapping ourselves willy-nilly. It's important to work with a physiotherapist or other healthcare provider to determine the right settings and duration of treatment for our specific needs. We don't want to end up with skin irritation or muscle twitching, or worse, electrical burns.
PEMF
PEMF is one of those electrotherapy modalities in physiotherapy that's worth a second look. It's like a hidden gem that not many people know about, but it can work wonders for reducing pain.
What's so special about PEMF, you ask? Well, it uses pulsating electromagnetic fields to stimulate the cells in our body. It's like a little electrical jolt that wakes up our cells and helps them function better. This can lead to improved circulation, reduced inflammation, and decreased pain.
And here's the thing: PEMF is different from other physiotherapy modalities because it can go deep into our tissues. It's like a secret agent that infiltrates our bone and cartilage, where other therapies can't reach. This means that it can help with a variety of conditions, from joint pain to osteoporosis.
But the best part about PEMF is that it's non-invasive and doesn't require any drugs or surgery. You just need to lie down on a mat or wear a device that emits electromagnetic fields, and let the therapy do its work. It's like getting a massage from the inside out, and it can be incredibly relaxing.
So, how does PEMF actually reduce pain? When electromagnetic fields penetrate our tissues, they stimulate the cells to release nitric oxide, which is a powerful vasodilator. This means it helps our blood vessels relax and widen, increasing blood flow to the affected area. This increased blood flow can then deliver more oxygen and nutrients, which can help reduce pain and promote healing.
SCS
Spinal Cord Stimulation (SCS) is like a superhero in the world of physiotherapy modalities, fighting against chronic pain and winning battles left and right. It's a procedure where a small device is implanted under your skin, sending electrical impulses to your spinal cord to disrupt pain signals and make you feel like a champion.
What's unique about SCS is that it can be personalized just for you. You can adjust the intensity and frequency of the electrical impulses to find the perfect balance of pain relief. Plus, if you decide it's not your cup of tea, you can remove it without any lasting damage.
But how does SCS work its magic? It's like a magic trick but without the rabbit. When the electrical impulses are sent to the spinal cord, they get in the way of the pain signals that are trying to reach your brain. It's like a traffic jam, but one that helps you feel better instead of making you late for work.
tDCS
Transcranial Direct Current Stimulation (tDCS) is like a lightning bolt of hope in the world of physiotherapy modalities. It's a non-invasive procedure that involves applying a small electric current to your scalp to stimulate specific areas of your brain, improving mood and reducing pain.
What makes tDCS unique is its flexibility. You can target different areas of your brain depending on your specific needs, whether you're looking to boost your creativity or manage your chronic pain. And the best part? It's a breeze compared to other physiotherapy modalities. No surgery, no medications, just a little zap of electricity to get you going.
But how does tDCS actually work? It's like a secret code that unlocks the potential of your brain. The electrical current modifies the activity of the neurons in your brain, increasing or decreasing their firing rate depending on what you need. It's like a conductor, orchestrating the symphony of your brain to play a beautiful tune.
Now, tDCS isn't suitable for everyone, but for those who benefit from it, it's like a ray of sunshine on a cloudy day. It's like having a secret weapon that no one else knows about, making you feel like a master of your own brain.
IFC
Speaking of effective pain management, another modality to consider is Interferential Current Therapy (IFC). It's a powerful electrotherapy technique that uses high-frequency electrical currents to stimulate deep tissues and reduce pain.
IFC creates interference patterns that can communicate with your nerves and provide much-needed relief where other modalities may fall short. It's like having a secret language with your pain, one that only IFC can understand and translate into relief.
One of the best things about IFC is that it's a non-invasive treatment option that doesn't require medication or surgery. So, if you're tired of popping painkillers or going under the knife, IFC may be the perfect fit for you.
IFC is particularly useful for those with chronic pain or recovering from injuries. It can reach deep tissues that other physiotherapy modalities may not be able to, making it a unique and effective option to consider.
Ultrasound
Alright, let's talk about Ultrasound Therapy – a physiotherapy modality that's like music to your ears… or more accurately, to your body! It uses high-frequency sound waves to reduce pain and promote healing. How cool is that?
With Ultrasound Therapy, you don't have to worry about invasive procedures or harsh medications. It's a gentle option that's versatile enough to be used for a variety of conditions, from sprains to chronic pain. It's like having a superhero in your physiotherapy squad!
If you're feeling held back by pain and discomfort, Ultrasound Therapy might just be the answer you've been looking for. It's a non-invasive option that can help you get back on your feet and back to the things you love. Talk to your physiotherapist today and see if Ultrasound Therapy is right for you
Conclusion
Electrotherapy modalities are a crucial component of physiotherapy, providing patients with an effective way to reduce pain and promote healing. Whether you opt for TENS, PEMF, IFC, or ultrasound therapy, each modality can offer unique benefits. By working closely with your physiotherapist and exploring different electrotherapy options, you can develop a personalized treatment plan that's right for you. Dr. Niraj Patel and their team are here to guide you on your journey toward pain relief and healing. So why wait? Take the first step and discover the power of electrotherapy modalities in physiotherapy today.