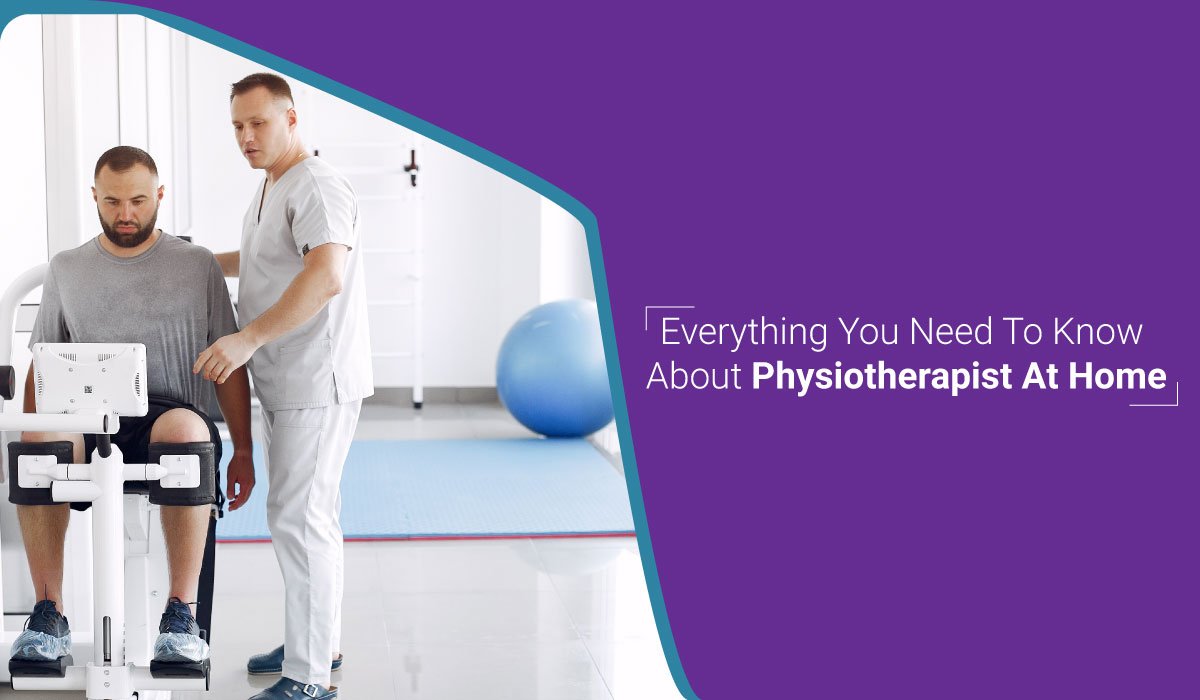 Physiotherapy is often given at a clinic or hospital, but occasionally you have to travel to a patient's home to administer treatment. In a clinic, you must assess the patient, obtain a history, develop a strategy, and then begin treatment. At home, the procedure is still the same. However, there are a few extra things to be aware of with home sessions.
The majority of physiotherapists who are new to home visits first struggle. You are in the appropriate place if that describes you. In this post, we'll offer helpful advice from the experiences of several home physiotherapists who conduct home sessions to help you get ready for physiotherapy.
What Is Home Physiotherapy or Home Physiotherapist?
Home physiotherapy refers to providing physiotherapy services to patients in their homes. While most physiotherapists offer in-clinic and home services, others specialize in this. It's perfect for:
Patients who find it challenging to travel to a PT clinic for therapy due to mobility concerns
Elderly patients
When you want the patient to advance in a comfortable setting, typically for individuals who need ongoing physical treatment
Offering patients greater comfort than they would receive in a clinic
To provide individualized care that isn't possible in a clinical setting
Patients who lack time to go to and from the clinic and wait for appointments
Additionally, it's fantastic for physiotherapists since they work in various environments and support their patients' improvement in the convenience of their homes, where they spend most of their time.
Advantages of Home Physiotherapy in Healthcare
Family members can be involved in the care – The patient's trusted family members may be present when medical professionals visit and treat the patient at home or offer home medical care. The patient's family may readily supervise and monitor the care provided to the patient because they will be informed of the treatment process. Additionally, the close ones are reported if additional therapy is required.
Convenience – Reducing stress by avoiding travel and transportation is one of the key arguments for choosing home physical treatment. Seniors who are confined to their homes find it extremely difficult to receive the necessary medical care by going to a hospital. The elderly frequently have trouble getting to and from the hospital. Knowing about home physiotherapy in the healthcare industry is practical and beneficial for receiving the required attention.
Increased comfort and privacy – Staying at home for physiotherapy sessions is beneficial for persons with mobility and severe pain concerns. The patient typically enjoys resting and sleeping after receiving treatment. You can save yourself the trouble of getting up, driving, and visiting the hospital by using a home physical therapy service. It only worsens when you consider the probability of getting trapped in traffic. Another feature that patients frequently want in rehabilitation environments is privacy. People who ask you a lot of questions could come across. Additionally, you end yourself exercising in front of others, which many find awkward. Instead, you can receive treatment in the privacy of your own home, free from the pressure of onlookers.
Preparation for the outpatient rehabilitation setting – Most orthopedic postoperative cases can be managed at home in their early phases. The initial objective is frequently to reduce pain and swelling while enhancing the range of motion, all of which can be accomplished at home. Additionally, your physiotherapist will inform you when you're prepared to participate in more complex therapy and use exercise equipment during an outpatient session.
10 Tips To Prepare For Physiotherapy In A Home Setting
Home visits and online physical therapy sessions have increased in popularity since the pandemic. A home session and an in-clinic session have a few differences. If you're visiting a patient's house for the first time, you should be aware of the following:
Don't Go Into the Session Blind: – When a patient schedules an appointment, whether by phone or online, get a general history of the patient. You need to know whether they need chest physical therapy, musculoskeletal physical therapy, pediatric physical therapy, or neurological physical therapy. It will make it easier for you to remember to bring the necessary evaluation forms and to be mentally ready for your visit to the patient's house.

Before your visit, you could enquire about the following:

What is your medical condition?
What is the main issue for which you need my help?
Could you briefly describe your medical background?

Take thorough notes on your medical history, and conduct an evaluation akin to one you would have with a physiotherapist in a clinic. Fill out the forms, so you have a baseline against which to compare your results. Then, base your treatment plan on the patient's health and desired outcomes.

Polish Your Knowledge of the Patient's Condition: –It would be best if you spent time reviewing the specifics of your patient's disease, potential treatment options, and the level of recovery you can anticipate since you won't have other therapists nearby to guide you in case you need assistance. That's crucial, especially in challenging situations or ones where you lack a lot of expertise.Even if you don't need their assistance, it can be comforting to know that senior physical therapists are present in a clinic. According to many new physiotherapists, the absence of coworkers in a home setting can initially make you feel less confident as you adjust to home sessions. You can be ready to provide physiotherapy and feel more confident in your service by brushing up on your understanding of the patient's condition.
Always Carry PPE With You:-You cannot ignore hygiene because you are giving physiotherapy in a home setting. After all, it is crucial for both patients and therapists. Gloves, face masks, and other safety gear that you might require for a home session are provided by some clinics. The therapists must occasionally purchase their own PPE, though.Because they don't want to be exposed to illnesses that are frequently found in hospitals, people often choose home sessions. Make sure you don't bring those infections into their house. You and the patient are both protected by PPE.
 Make Sure You Have the Necessary Modalities and Equipment: –  Although manual therapy and exercises make up most of the physical therapy sessions, your patient may also need specific equipment for monitoring and treatment. You should pack a bag with all the supplies required for at-home physical treatment. It may include a TENS/EMS machine, hot-cold pack, K-tape, oximeter, resistance band, or anything unique to your patient.
Lastly,
One of Ahmedabad's top physical therapists, Dr. Niraj Patel, is employed at Om Physio Plus Nutrition & Yoga Center. He has a reputable home physiotherapy practice and authority over many different illnesses. He does physiotherapy at home in Gota Cross Road, Ahmedabad, and the surrounding communities of Chandlodiya, Chandkheda, Kali, and Chharodia.