After the grueling experience of joint replacement surgery, patients are often left to endure excruciating pain and mobility issues. However, there is hope on the horizon with the implementation of physiotherapy exercises. This practice has become a crucial component of postoperative care, designed to mitigate pain and inflammation while improving overall function. Through this blog, we will explore various subjects related to physiotherapy after joint replacement, including preoperative physiotherapy, managing pain and inflammation, strengthening exercises, mobility aids, common challenges, preventing complications, returning to daily activities, etc. By embracing these topics, patients can take ownership of their recovery, gaining a deeper understanding of the procedures and tools required to achieve the best possible outcomes.
Why should you consider preoperative physiotherapy?
Before delving into the harrowing experience of joint replacement surgery, one must consider the importance of preoperative physiotherapy. This preparation is a critical element in achieving optimal outcomes post-surgery. By undertaking a thorough assessment of physical and functional capacity, preoperative physiotherapy allows for the creation of personalized exercise programs to enhance joint range of motion, muscle strength, and endurance. This approach provides patients with the tools necessary to accelerate the rehabilitation exercise program, reduce post-operative complications, and foster a positive mindset going into the procedure. Through preoperative physiotherapy, patients can face the upcoming surgery with confidence, allowing for faster recovery and improved postoperative outcomes. In essence, preoperative physiotherapy is a fundamental aspect of the comprehensive approach to physiotherapy after joint replacement, offering a proactive means of preparing patients for the challenges that lie ahead.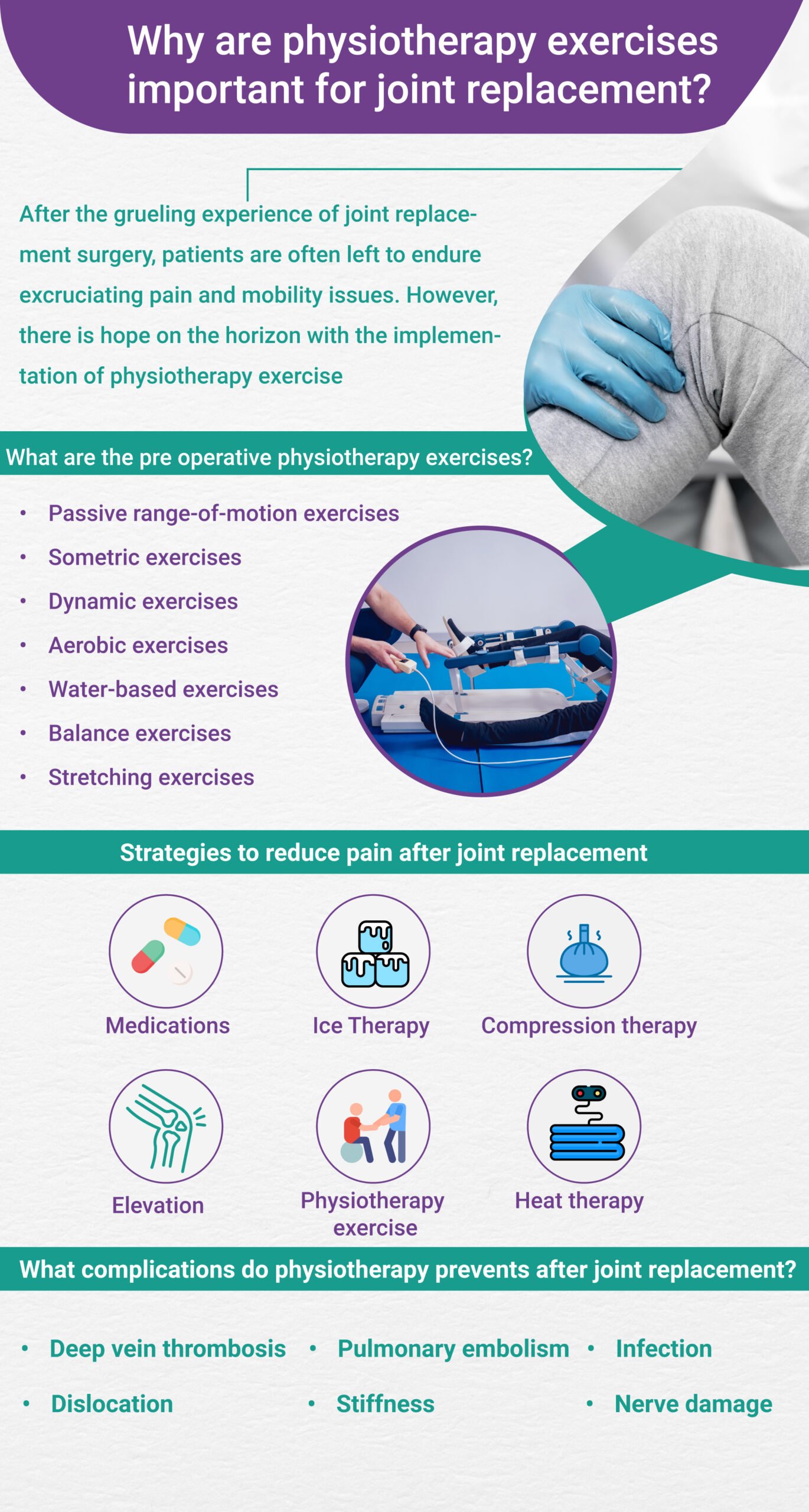 What are the pre-operative physiotherapy exercises?
Passive range-of-motion exercises: Ankle pumps and knee extensions keep the joints limber and primed for the coming surgery. Performed while lying down or sitting, these exercises can be done solo or with the help of a physiotherapist.
Isometric exercises: Build strength in the muscles surrounding the joint without increasing joint stress by squeezing and holding the muscles. Examples include glute squeezes, quad sets, and hamstring sets, and they can be done while lying down, sitting, or standing.
Dynamic exercises: Move the joints through their full range of motion to increase strength, balance, and overall physical fitness. Examples include leg lifts, squats, lunges, and step-ups. Body weight, resistance bands, or weights can be used for these exercises.
Aerobic exercises: Enhance cardiovascular endurance with cycling, swimming, or brisk walking. Low-impact and easy on the joints, these exercises are ideal for patients preparing for joint replacement surgery.
Water-based exercises: The buoyancy of water can help reduce the impact on the joints, making swimming or aqua aerobics excellent for improving physical fitness before surgery.
Balance exercises: Improve balance to reduce the risk of falls after surgery. Single-leg balance, heel-to-toe walking, and tandem stance can help improve balance and reduce the risk of falls.
Stretching exercises: Increase flexibility and range of motion before surgery with calf, hamstring, and quad stretches. These can be done before or after other exercises or as a standalone activity.
In essence, incorporating a variety of physiotherapy exercises before joint replacement surgery can help patients increase their range of motion, build strength, and improve overall physical fitness, leading to better outcomes and a higher quality of life post-surgery
What are the different strategies to reduce pain after joint replacement?
After joint replacement surgery, the pain and inflammation can be mighty foes to overcome. But there are strategies that can be implemented during physiotherapy after joint replacement to manage them effectively.
Medications: Opioids and nonsteroidal anti-inflammatory drugs (NSAIDs) are potent weapons in the battle against post-operative pain and inflammation. However, these medications should be used as prescribed by a physician.
Ice therapy: The chill of ice can work wonders in reducing swelling and easing pain. The joint should be iced for 20-30 minutes several times a day to bring the inflammation down.
Compression therapy: Compression stockings or bandages can also aid in reducing swelling and improving blood flow to the affected joint.
Elevation: Keeping the joint elevated above heart level can promote better blood flow and assist in reducing swelling.
Physiotherapy exercise: Movement and gentle exercise can help prevent Joint Stiffness and encourage healing. Doing exercises like ankle pumps and heel slides can enhance the range of motion and relieve pain and stiffness.
Heat therapy: Applying heat to the affected joint can also promote blood flow and hasten healing. Warm towels, heating pads, and hot water bottles are useful heat sources.
How can physiotherapy exercises help after joint surgery?
After joint replacement surgery, physiotherapy exercise becomes a necessary road to rehabilitation. It is through these exercises that patients can regain muscle strength, improve joint mobility, and boost functionality. Here, we present a few types of physiotherapy exercises that therapists may recommend after joint replacement:
Range-of-motion exercises: These exercises aim to enhance joint flexibility and mobility. Activities may include ankle pumps, knee bends, hip rotations, and shoulder rolls.
Strengthening exercises: These exercises focus on the muscles surrounding the affected joint to reinforce muscle strength and endurance. Examples are leg raises, wall squats, and calf raises.
Aerobic exercises: Aerobic exercise is crucial in improving cardiovascular endurance, promoting weight loss, and enhancing overall fitness levels. Low-impact activities such as cycling, walking, and swimming are preferred.
Balance and coordination exercises: Joint replacement surgery may affect balance and coordination, and these exercises can help improve these skills. Examples are standing on one leg and using a balance board.
Resistance band exercises: Resistance bands are utilized to improve muscle strength and range of motion, with exercises such as shoulder rotations and leg extensions.
Aquatic exercises: Aquatic exercises may be an excellent option for patients who cannot tolerate weight-bearing activities due to pain or discomfort. Water walking and water aerobics are examples of aquatic exercises.
What complications does physiotherapy prevent after joint replacement?
The human body is a delicate instrument, and the healing process following joint replacement surgery can be rife with potential complications. Fortunately, physiotherapy after joint replacement and the inclusion of specific exercises can help patients prevent these issues from occurring. Here are several complications that can be avoided with the aid of physiotherapy exercises:
Deep vein thrombosis: Blood clots can form in the deep veins of the legs, causing pain and swelling. Physiotherapy exercises can help improve blood flow and reduce the risk of clotting.
Pulmonary embolism: Blood clots that form in the legs can break off and travel to the lungs, potentially causing a life-threatening pulmonary embolism. Physiotherapy exercises can help prevent this by promoting circulation and improving breathing.
Infection: Joint replacement surgery carries a risk of infection, which can be reduced with proper wound care and physiotherapy exercises that strengthen the immune system.
Dislocation: The joint replacement may become dislocated if the muscles around it are weak or stiff. Physiotherapy exercises can help strengthen these muscles and improve joint stability.
Stiffness: After joint replacement surgery, it is common for patients to experience stiffness in the affected area. Physiotherapy exercises can help improve flexibility and range of motion, reducing the likelihood of long-term stiffness.
Nerve damage: Joint replacement surgery can result in nerve damage, which can lead to numbness, weakness, and even paralysis. Physiotherapy exercises can help improve nerve function and reduce the risk of nerve damage.
Conclusion
Physiotherapy after joint replacement is a crucial component in ensuring a successful recovery. With the help of physiotherapy exercises and guidance from a qualified physical therapist, patients can increase their range of motion, build strength, and improve their overall fitness levels. By following a personalized physiotherapy program, patients can also effectively manage pain and inflammation, prevent complications, and achieve a faster and smoother recovery. For those seeking the best physiotherapist in Ahmedabad, look no further than Dr. Niraj Patel, whose expertise and experience in physiotherapy make him a trusted and valuable resource for patients on their road to recovery.